Table of Contents
Technology has transformed the education industry, and the world has transitioned to online teaching and examinations. The emergence of the COVID-19 pandemic made universities, schools, and colleges adopt the online examination system and it proved to be a booming success.
While the importance of online education is undeniable, one question that often remains unanswered is the integrity of online examinations and remote proctoring. Educational administrators and stakeholders are often skeptical about the integrity of online examinations as they do not regard remote proctoring as an effective method.
Luckily, that is not the case and there are plenty of advanced tools such as ExamOnline software which has a 360-degree viewing capability along with live video recording, AI and human proctoring to streamline the process of remote proctoring. The exam can be paused or terminated based on machine-alerts, making proctoring a fool-proof method. So let us dive deep into the domain of remote proctoring and learn about five common myths about remote proctoring.
What is Remote Proctoring?
The process of remote proctoring enables students to attempt online examinations while maintaining the integrity of the examination process. Online remote proctoring is the monitoring of a web-based examination from a remote location to ensure no aberrant behavior or cheating, thereby ensuring a fair assessment. Remotely proctored examinations can be conducted with a trained human proctor or artificial-intelligence-enabled tools that have automated algorithms to prevent any cheating or unfair activities.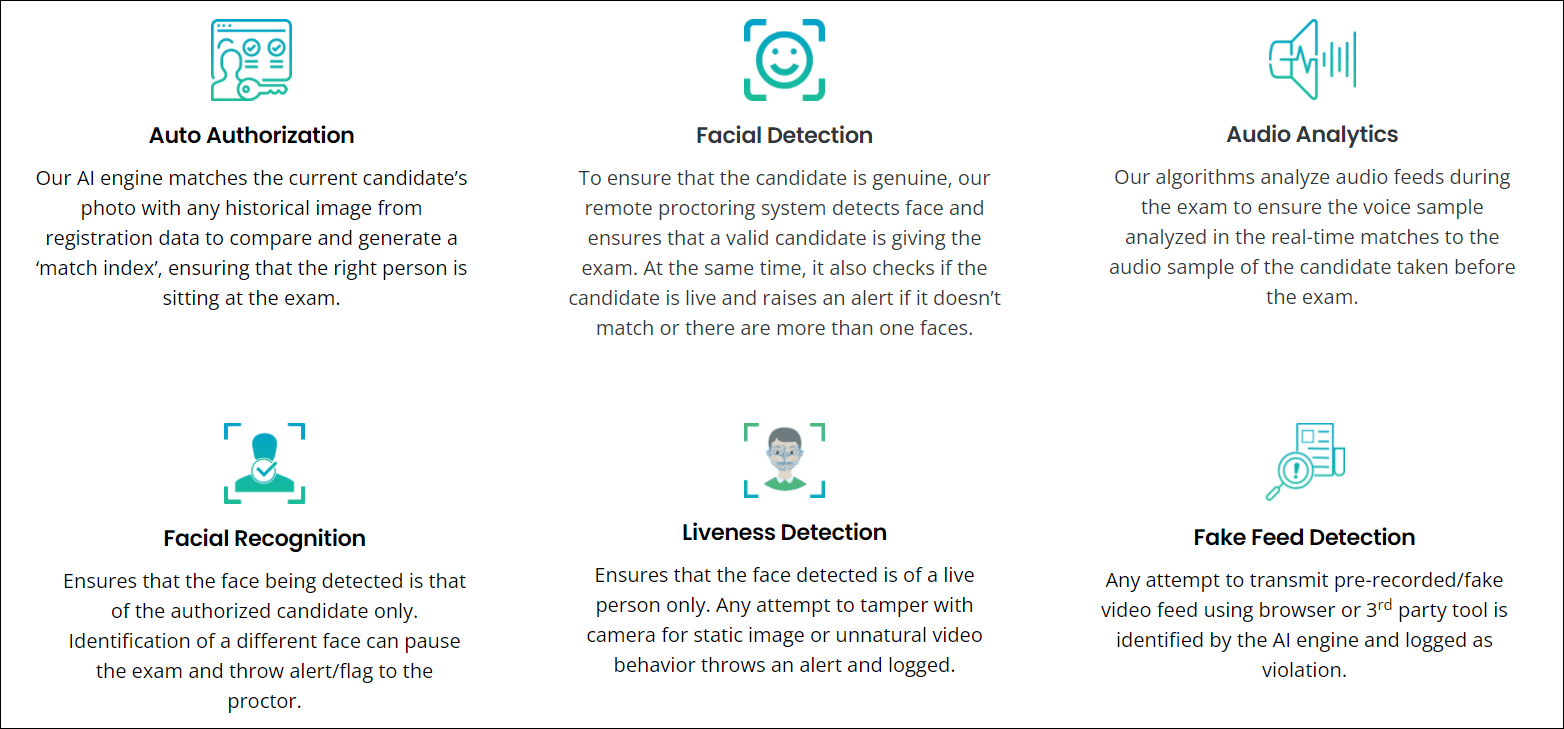 Five Myths About Remote Proctored Examinations That You Need To Know
With a massive growth in the field of online examinations, remote proctored examinations are a new reality. However, many educationists are not convinced about the fairness and objectivity of remotely proctored examinations. Hence, we have put together a list of five common myths about remote proctoring to dispel and help you understand the concept better. Here are five myths about online proctored examinations:
Remote-Proctored Examinations Are Not Secure And Reliable
One of the biggest myths surrounding online examinations is that they are not effective and reliable. Nowadays, there are several advanced online examination systems that utilize AI-enabled technology to prevent any cheating or unfair mechanisms.
There are a number of reliable online examination software in the market, such as ExamOnline, that utilize facial recognition, auto authorization, audio analytics, and fake feed detection. This provides candidates with a secure and confidential environment for online assessment and increases the authenticity of web-based examinations.
It is high time to dispel the myth that online examinations conducted with live or automated remote proctoring are not fair or reliable. Educational institutes following an online examination framework need to invest in the latest tools to ensure the best remote proctoring technology that implements stringent security protocols.
Video Proctoring Increases The Anxiety and Stress of Students
One popular misconception about remote proctoring is that it increases stress and anxiety amongst students. This is not true as most remote proctoring tools are not intrusive and do not involve constant physical monitoring of the candidate during the examination.
Rather than increasing anxiety in students, online examinations boost confidence levels and help candidates feel comfortable as they attempt questions from the comfort of their homes. Students do not remain worried about reaching the examination venue late as they simply need to log in and attempt the examination.
Remote proctoring is extremely user-friendly and it requires candidates to keep their web cameras switched on at all times during the exam. It quietly captures live footage while the students can easily concentrate on their examination without any disturbance. Hence if a student is attempting an online examination fairly, they will not feel worried at all and remain at ease even if remote proctoring technology is used to monitor the entire duration of the test.
Remote Proctoring Is A Threat To Data Privacy and Security
Another common myth about remote proctoring in the online education sector is that it infringes on user privacy. Many people are not comfortable with remote proctoring due to the fact that a human proctor can gain access to their device and view any application or webpage in real-time. However, remote proctoring techniques ensure that proctors cannot access your device after the examination without authorization.
Online examination software with remote proctoring tools remains compliant with privacy laws and regulations. Also, the web camera is required to be switched on only during the examination, and video recording ends as soon as the candidate has finished attempting the examination. Thus, students and exam administrators should not be worried about data privacy and security with online examination systems that utilize remote proctoring techniques as they are safe and non-invasive methods to ensure a cheating-free examination.
Online Exam Software With Remote Proctoring Option Is Not Cost-Effective And User-Friendly
Many universities, schools, and colleges are hesitant to invest in remote proctoring tools as they feel that a heavy financial expenditure will be incurred. However, this is not true as remote proctoring is carried out through online examination software solutions that are economical and a must-have business asset in the current virtual educational domain.
Online examination software with in-built remote proctoring technology can help save various overhead costs associated with exams, such as money spent on printing question papers/answer sheets, manual invigilation, and managing the physical venue.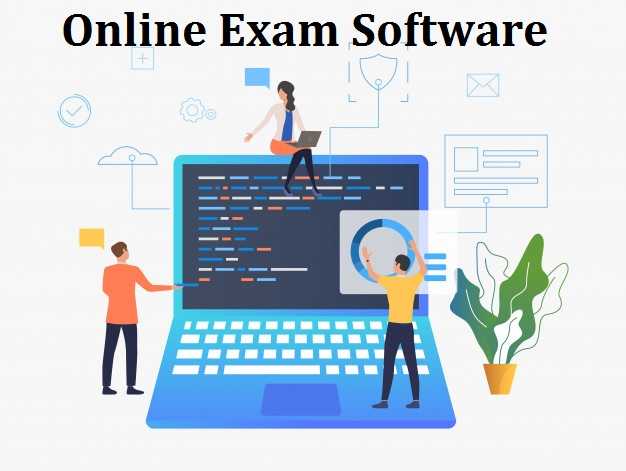 Another myth that deters educational administrators from investing in remote proctoring tools is the thought that they are difficult to install and maintain. Most online examination platforms with remote proctoring tools do not require any third-party installations and can be directly launched. They also have a simple learning curve and are extremely user-friendly and flexible.
Remote Proctored Examinations Only Use Video-Based Proctoring Technology
While many sophisticated online examination software platforms such as ExamOnline use the dual cameras for video-based proctoring, there are many other ways of proctoring online exams. Some tools do not use live video feed but rather follow image-based proctoring where candidates are required to keep their web cameras switched on while taking the online test.

At a pre-decided time interval such as 5, 10, or 30 seconds, the remote proctoring tool automatically captures an image of the candidate. Artificial intelligence-based technology assesses the image to check for discrepancies and sends alerts in case of malpractice.
In addition to image-based proctoring, online examination systems also use audio-based proctoring to capture sounds and voices in the test environment. This ensures that candidates do not receive external help from anyone in a remote location as any sound is recorded in the system automatically, making it a fool-proof remote proctoring technique.
Final Thoughts
It is the time for dynamic change, and educational institutions need to adapt to the new normal. With remote learning and education at an all-time high, it is imperative to adopt new technologies to ensure a seamless transition. Online examination software can help educational stakeholders save time, money, and energy in conducting examinations in an environment-friendly manner.
Remote proctoring is the biggest advantage of online examination software that makes conducting online exams a breeze. It is important to gain adequate knowledge about the technology of remote proctoring to understand how it works and leverage it to its fullest potential.
If your organization is ready to switch to remote proctoring technology, make sure to explore the various options available in the market and choose a reliable player to gain an instant competitive advantage and streamline the process of online examinations.